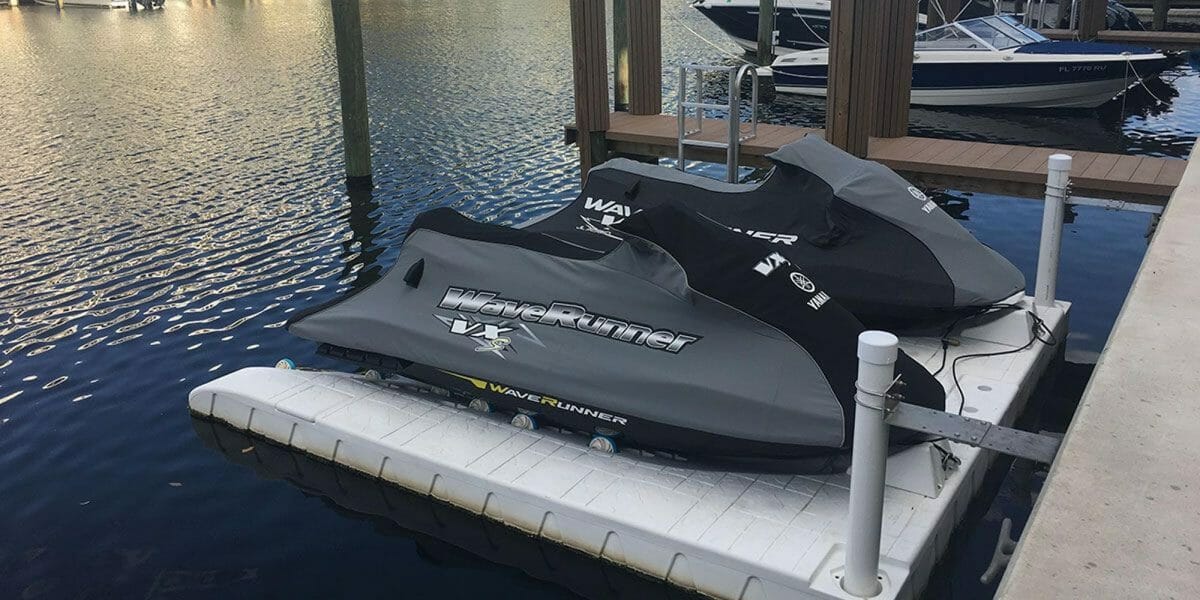 Floating Docks for Waverunners: 3 Benefits
Who's up for some fun in the sun? Some water, waves, and warm weather? We know you are! Here in South Florida, we're especially blessed with an abundance of waterways and nearly year-round sun – and personal watercrafts (PWCs), like waverunners, help us make the most of it. Want all of the fun and none of the hassle? Here are three big benefits of installing a waverunner dock.
The Ease and Convenience of Floating Docks for Waverunners
A waverunner dock is a sound investment. Here's why:
Launching and docking are much easier. When you pull up to a boat dock, you have to worry about your fenders, dock lines, the height of the dock, and whether the cleats will be too far apart to secure both the front and back of your craft. With a waverunner dock, you simply drive right up. That's it. It's done, it's secure. AccuDock's floating docks for waverunners and PWCs also have six-foot widths, allowing ample room for loading and unloading.
Your waverunner is kept out of the water. Waverunners are made to move through the water, not sit in it. Prolonged exposure to saltwater, and even freshwater, will leave you at risk for corrosion. This impacts performance, power, safety, and, of course, the life span of your waverunner. Floating docks for waverunners enable you to get them out of the water without lifts, hoists, or winches. You can rinse them off, secure them, and you're good to go.
Versatility. Unlike fixed docks, you can easily configure floating docks to meet your needs (and reconfigure to meet your needs as they evolve). They are also adaptable to a wide range of water, shore, and land conditions. If you have large water level fluctuations, for example, a floating waverunner dock can accommodate. Lightweight, easy to assemble, and easy to remove/reposition/change, a floating dock is an ideal addition to your property.
How else can AccuDock floating docks for waverunners enhance your experience? Well, they're exceptionally low-maintenance, durable, stable, UV resistant, and able to stand up to pretty much any use and abuse you – and the elements – can dish out.
>>> Ready to make your life easier – and a whole lot more fun? Get in touch with AccuDock today.