Wastewater or Energy Plant Floating Platforms
Work barge platforms for wastewater treatment and energy plants need to be agile, flexible, easy to work with, and cost-effective. Since they are battered by the elements, durability and strength are also critical. AccuDock, a global leader in industrial docks and floating platforms, provides tried, true, and trusted products that allow you to get to work. When you need a viable, effective solution, AccuDock delivers.
The AccuDock team has extensive experience in the design and manufacturing of high quality industrial docks; our 30,000+ square feet of manufacturing space allows us to develop products quickly and precisely according to your unique specifications. We can also help your project proceed smoothly from start to finish by reviewing engineering drawings, facilitating the permit and compliance process, and assisting with everything from environmental data to site inspection, if applicable for your project.
We are able to custom design work barge platforms for wastewater treatment and energy plants in-house. Any shape, any size, any application. There is no job that is too complex for AccuDock. We specialize in:
Lightweight, portable mini barge dock sections. Constructed of the highest quality materials, including marine grade aluminum and HDPE-encapsulated floats.

Simple installation. Our modular design allows you to quickly and easily assemble your floating dock or work platform right in the water.

Customized solutions. We build solutions for every industrial, commercial, marine, or utilities sector imaginable. There isn't always a ready-made product that suits your needs exactly – so we make it.

Strength and stability. Your dock or floating platform will be designed and manufactured to support the maximum load for any project on your to-do list, and the height of each can be customized to suit your needs.

Safety. Safety is paramount on the job site – and, arguably – even more important on the water, especially in remote or relatively inaccessible locations. We integrate a number of safety features, including guardrails, locking mechanisms, toe boards, qualified anchoring points, and fall protection. Safe

and

OSHA compliant. 
Duke Energy: A Quick AccuDock Case Study
Charlotte, North Carolina's Duke Energy needed a custom designed crescent shaped float. Beyond the unique shape, they needed a barge dock that could be dismantled easily and quickly; every piece had to be able to fit through a four foot opening in an access pipe that led to a holding tank below the surface of the pipe. Once inside the holding tank, it needed to be reassembled.
With features like quick release pins at the meeting point of each float and railing joint, AccuDock delivered a solution that was custom-made for Duke Energy.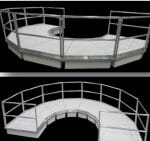 AccuDock has delivered work barge platforms for wastewater treatment and energy plants all over the country and beyond. While no two projects are exactly the same, what remains constant is our commitment to providing exceptional customer service, designing and building with meticulous care, and ensuring our valued clients get the products – and the results – they need.
Contact AccuDock today to discuss your project goals and to request a quote.