Aluminum Gangways and Ramps
AccuDock® manufacturers all gangways and ramps in house using 6000 Series Marine grade aluminum. Each gangway and ramp is built to specification based on customer and application requirements including ADA specifications when required. All AccuDock Gangways and Ramps are welded by AWS (American Welding Society) certified welders ensuring the utmost in quality and functionality and can accommodate varying live load requirements dependent upon the application. The surface texture of AccuDock® aluminum gangways and ramps is ribbed and knurled to provide additional traction. Various decking materials are also available upon request.
AccuDock® ramps are all constructed with 6000 series marine grade aluminum with ribbed and knurled decking. They are constructed with no sides and are structurally reinforced by under trusses; making them a perfect solution for rowing docks; allowing the crew team members to easily maneuver their shell with ease.
AccuDock® aluminum winged ramps are all manufactured in house, pre-assembled and drilled to ease assembly at the point of install. They are structurally reinforced by under trusses and provide a wide entry way onto the dock making them a perfect solution for rowing docks or other high traffic docks, that run parallel to the shore.
AccuDock® piano style hinges can be used on either side of the gangway and allow pivoting required due to changing water level variations. They are constructed with 6000 series marine grade aluminum and are covered in a PVC bushing to prevent aluminum on aluminum wear as well as provide a quiet solution. A solid structure such as a concrete pad, fixed dock, or a seawall is required for land side attachment.
Some AccuDock® applications may require an additional stiffening point in order to keep the dock in place. AccuDock ® control arms stabilize the dock and keep it parallel with the shore. All AccuDock® control arms are manufactured with 6000 Series marine grade aluminum and arched and supported by under trusses to provide additional stability.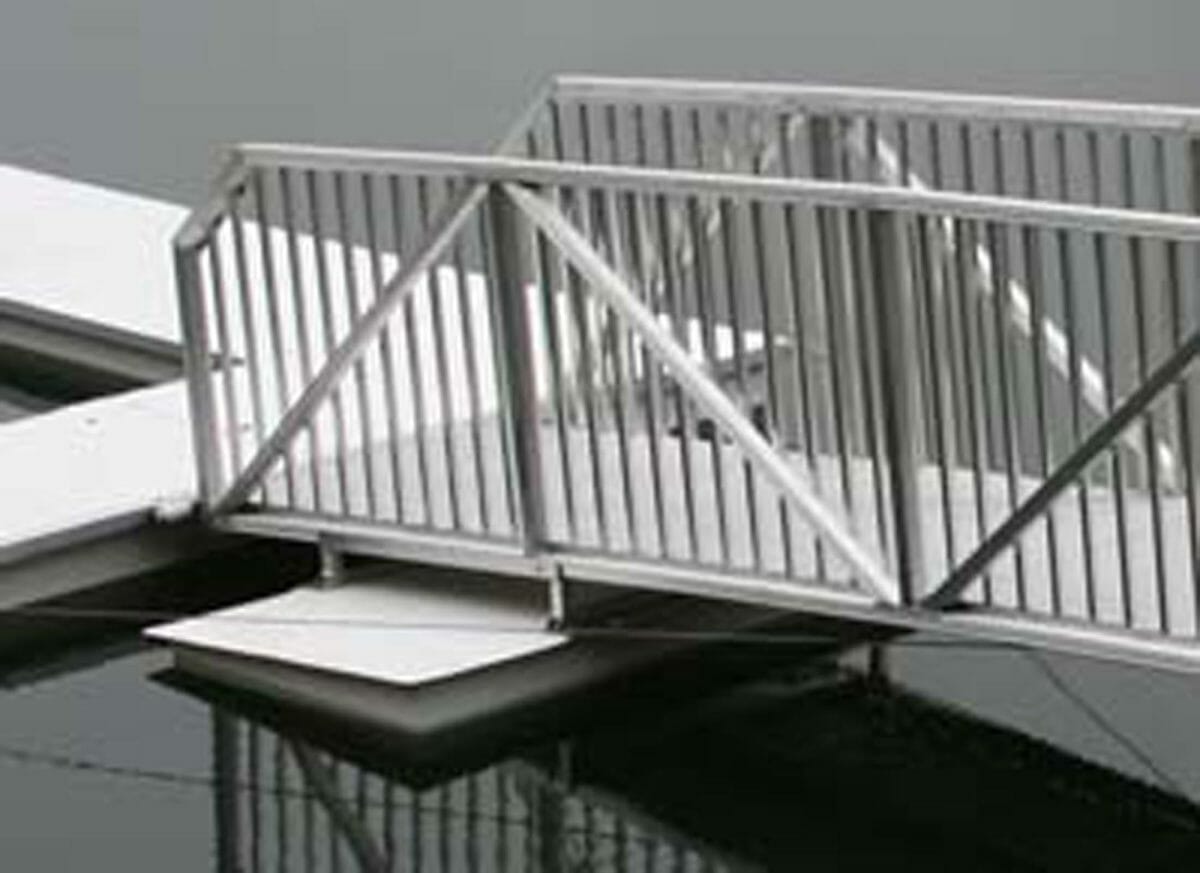 AccuDock® often uses additional floatation support for installs with hinge attachments. The additional support alleviates the possibility of the leading edge of the dock having to support the full weight of the gangway; which allows the dock to sit level with the water despite changes in water level.
AccuDock® transition plates are all made of a quarter inch 6000 series marine grade aluminum and diamond plated to provide additional traction. Transition plates are often used for installs that require the use of rollers and prevent the possibility of a trip hazard caused by the 6-inch difference in height between the gangway and dock.
Certain AccuDock® installs may require the addition of rollers depending on the attachment method. Rollers are often the best solution for installs with piling, spud bracket or slide more assemblies allowing the gangway to roll along the top of the dock with fluctuating water levels.