AccuDock is the leader in manufacturing superior quality Aluminum Floating Docks. The ability to customize each dock to the specific needs of each customer as well as the keen attention to detail in each step of the manufacturing process makes AccuDock the premier choice for commercial and residential use everywhere. The fully welded aluminum frame provides unparalleled stability and durability in even the harshest marine environments.
Custom Design and Fabrication
Each AccuDock is custom engineered, designed and fabricated to meet all site specific needs. We are able to manufacture any shape or height Aluminum Floating Dock, ensuring that each AccuDock meets the optimum level of functionality for each specific install. In addition, we are also able to include features such as quick pin releases, removable railings, cantilevered pivot arms and more to ensure maximum functionality of each dock.
Unlimited Freeboard Height (from as low as 5″ and up)
Due to the superior manufacturing processes, AccuDock is the only floating dock manufacturer able to create superior Aluminum Floating Docks with a freeboard as low as 5″ and as high as 98″.
Superior Quality Flotation
AccuDock floats are comprised of HDPE flat sheets that fully encapsulate expanded EPS foam. AccuDock floats are resistant to cracking and corrosion and are available in an unlimited range of heights and formations. Our Aluminum Floating Docks can be ordered in grey or black.
Aluminum Floating Docks and Control Arms
AccuDock employs only AWS certified welders and uses advanced digital wave pulse MIG welding equipment, so that each aluminum floating dock has superior strength and durability. All frames are created with 6061-T6 aluminum, which is the ideal material for aluminum dock construction due to its ability to be welded and the fact that it never rusts.
Unlimited Decking Options
AccuDock Aluminum Floating Docks are available in a wide variety of decking options, including an assorted colors of PVC decking treated wood, and aluminum.
Hinged Float Connections
AccuDock Aluminum Floating Docks often include full width hinges to connect the float sections. Hinge connections prevent undue stress on each dock section allowing the dock to pivot in varying water conditions and rapidly changing tides.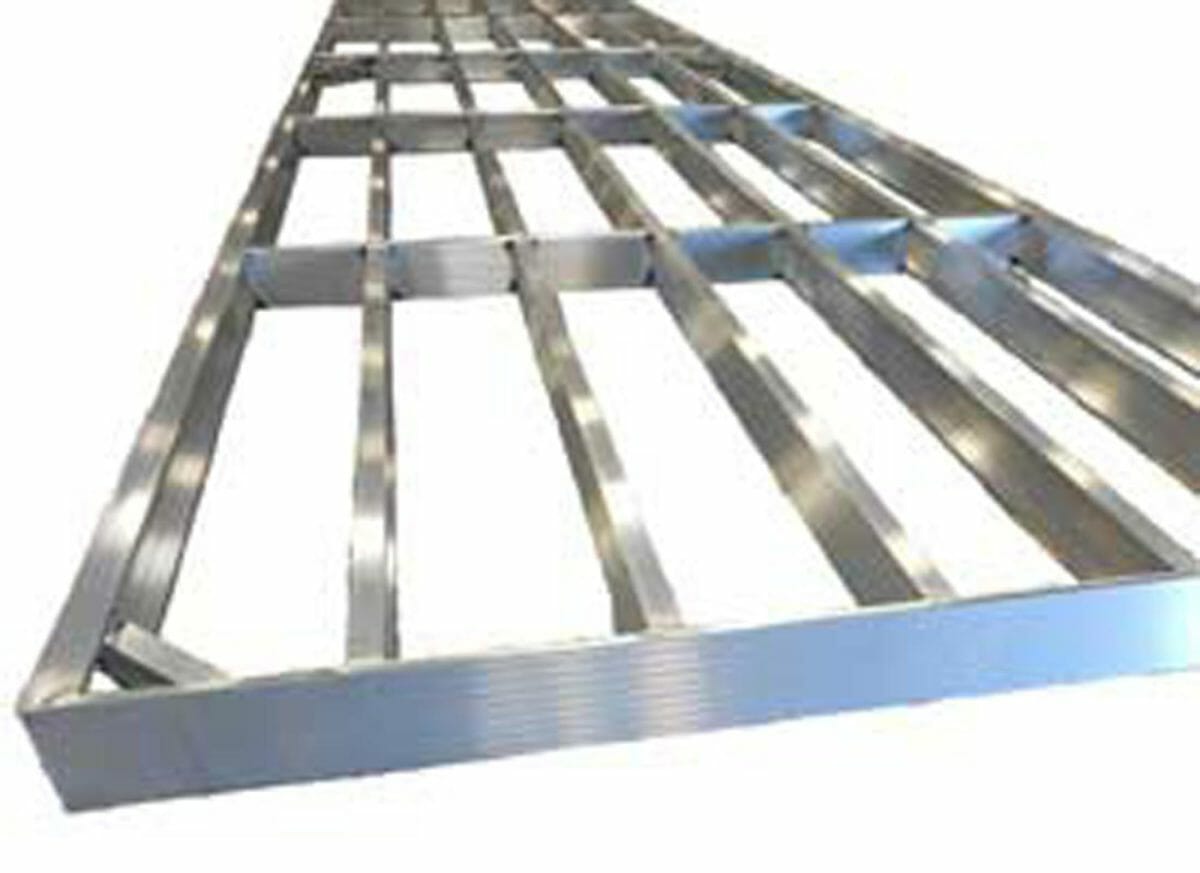 Channeled Track Frame
Each dock has an Aluminum design and utilizes a track frame to allow all components and accessories to be slid anywhere on your dock system in order to meet your specific docking needs. Frame will be built with 4″, 6″, or 8″ aluminum channel based on specs. Double strengthening gussets will also be welded in each corner.
Gangway and Ramp Construction
AccuDock manufacturers all gangways and ramps in house using 6000 Series Marine grade aluminum. Each gangway and ramp is built to specification based on customer and application requirements; including ADA specifications when required. All AccuDock Gangways and Ramps are welded by AWS (American Welding Society) certified welders, ensuring the utmost in quality and functionality and can accommodate varying live load requirements dependent upon the application