Marci M. Montrose
United States Army Corps of Engineers
I just wanted to take a few seconds to say how much of a pleasure it has been working with Robert and the rest of the staff at Accudock. As we are a federal agency, sometimes purchasing items can be a hassle and this purchase was no exception. Robert was very understanding, patient and he bent over backwards to get us the docks that we needed. He truly understood the complicated hoops that we as a government entity have to jump through in order to make certain purchases and he worked with me every step of the way. He provide all the necessary information I needed to make an informed decision regarding what would be the best product for us. I have already expressed my gratitude to Robert, but I wanted to let you know as well. The level of assistance Robert provided me was unprecedented and remarkable. Please know that whenever possible I will recommend Accudocks to my colleagues and others who I know are in the market for the products you provide.
Melvin Walston
Mattamuskeet National Wildlife Refuge
It went great with the duck blind improvements putting them on floats. Your description and assembly instructions were right on along with your business' timely deliveries it made it possible for us to be ready for the scheduled hunts the week of Thanksgiving and we greatly appreciate it. Here are some photos of the assembly and finished product. Thanks again.
Daniel L.
President and CEO
Vulpine Films Corp.
While on the search for a "floating stage" that would fit our artistic requirements, we found nothing better in South Florida than AccuDock™. After calling and discussing the complicated logistics involved, Al was confident that his team would be up to the task. As promised, the "floating stage" was off the shore of Watson Island right on time, rigged and in place. The process was effortless, professional and reliable. To achieve some unique shots in your next production I would highly recommend the AccuDock Team and their array of various dock configurations.
The dock you sold us was a hit at SeaWorld. It worked out exactly like we planned and wanted it to. Thanks for all your help!
Thank you for your time and effort building our quote. I received much faster and friendly service with your company than others I contacted. I appreciate Jason following up after hours to discuss details.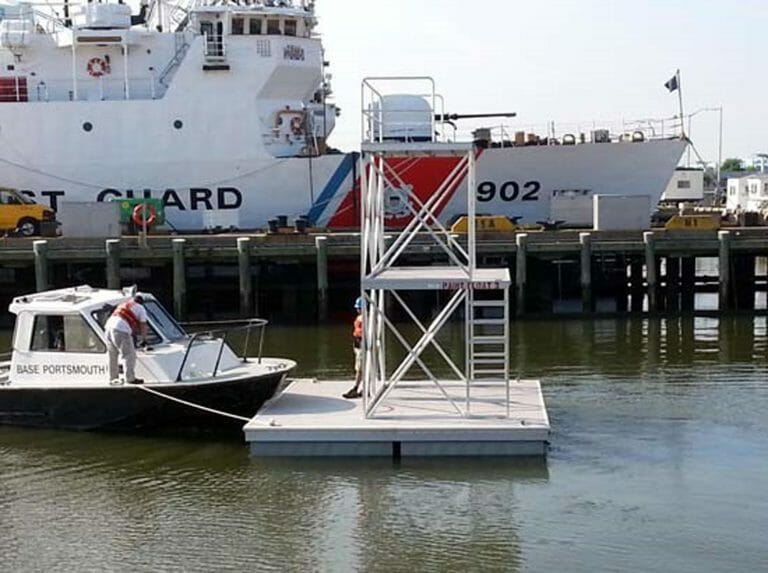 We splashed our 2 paint floats and they look Great! They are really stable and I feel they are going to work out well.
Jane Reifert
President
Incredible Adventures, Inc.
We'd like to send a big "thank you!" out to Kim and the rest of the team at AccuDock, for designing and building us one heck of a San Francisco shark dive platform and doing it in less than a week. If you're looking for a custom floating dock for your boat, jet ski, kayak or seaplane, we encourage you to give our friends at AccuDock a call. They're based in Florida but ship just about anywhere.